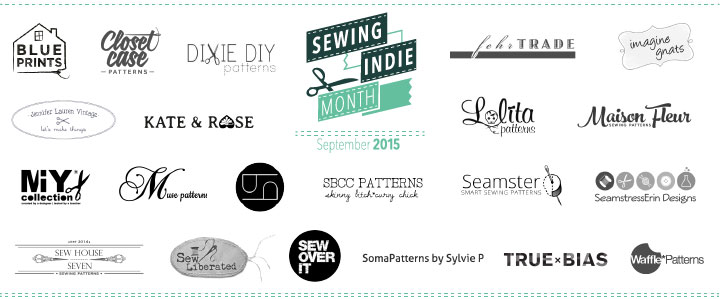 I had the privilege of interviewing Lisa owner with Stef of
Paprika Patterns
It is a unique Indie pattern company designing clean and clever sewing patterns.
-
What is your background and for how long have you been sewing?
Lisa Response:

My educational background is something very different from sewing - I have a Masters degree in Philosophy and a Bachelor in Environmental Science. But I've been sewing since I was 15. We had a high school play for which we had to make our own costumes. My grandmother sewed and she helped me. I was sold - I asked a sewing machine for my 16th birthday and have been teaching myself since. It started getting serious five years ago when i decided to stop buying clothes and make them myself for a year. I never stopped after that year. I've taken a year of pattern making classes two years ago, which I've picked up again this summer. I intend to finish the whole course to get my dressmakers diploma.

Why did you decided to create your own pattern company?
-
I had already been sewing a lot and creating my own patterns, even though I had no idea on how to actually draft patterns. We were planning to go on a big trip for about a year, and we were looking for ways to earn some money while we traveled. My husband is a web designer so it was easy for him. That's when I decided to pursue my passion and start Paprika Patterns. I learned as much as I could at the pattern making course the year before we left, took a photography course and learned the ways of Illustrator. As it turned out working and traveling is not easy so Paprika only got it's real start once we had settled in France.

-What is your process: do you drape first or do only pattern drafting?
I start with pattern drafting. I don't have a dress form as we live in a yurt so we don't have that much space. The course I took also focuses on flat pattern making so it's the way I know. Well the first step is sketching my idea, then drafting the pattern for myself, sewing it up and tweaking the design a few times. Then I draft it to my standard block measurements that I use for Paprika. Then it's on to grading and testing.
-Are you translating your patterns in several languages?
I'm not, but it's definitely something i'd like to do! French would be the first, I've found we have a lot more french followers now that we live in France, and the fact that our patterns are in English prevents them from buying them.

-I love your tutorials on your website, do you also teach?
I don't, I haven't found the opportunities where I live. I also need to improve my French first. I've taught some friends how to sew and I do love it, so I hope I get to do that in the future.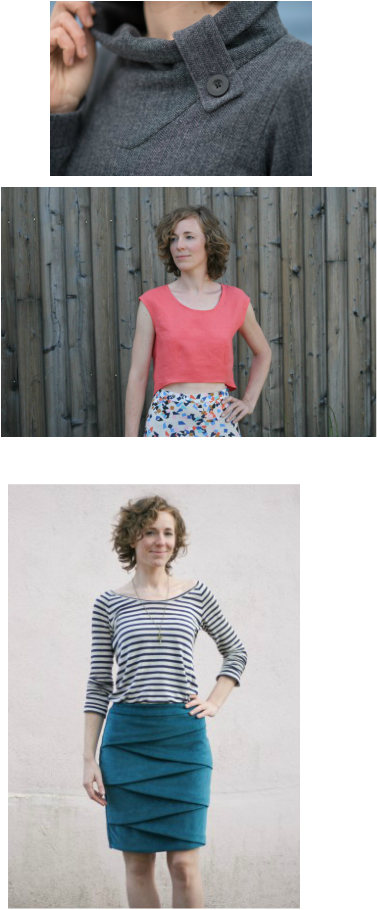 I just finished the Jasper Dress, the drape collar is very cool, what was you inspiration for this collar.

I'm not sure - inspiration usually comes from different things. I had drafted big collars for myself before, I love them. And the tab is something I saw on some other garment. I think it balances out the design.

-I like that you have different pattern/cup size, do you have requests from customer for larger sizes?
I didn't have specific requests, as I decided on this before we officially started. I had been following a lot of the discussions about pattern sizes and cup sizes. When you're just starting you have the freedom to create your own size range, and I found that the standard ranges don't reflect actual women that well, especially in the larger range. The average cup size hasn't been a B for some years, so it made more sense to me to draft the larger sizes with a C. It's more work, but it means less work for those who sew my patterns.

-Can we have a idea of what will be the next designs?

I'd like to have a full range of garments - tops, skirts, dresses, pants. The pants are coming next spring. For this winter I'm going back to my favorite, the sweater dress. It'll probably have a big collar too, even though the design will differ from the Jasper.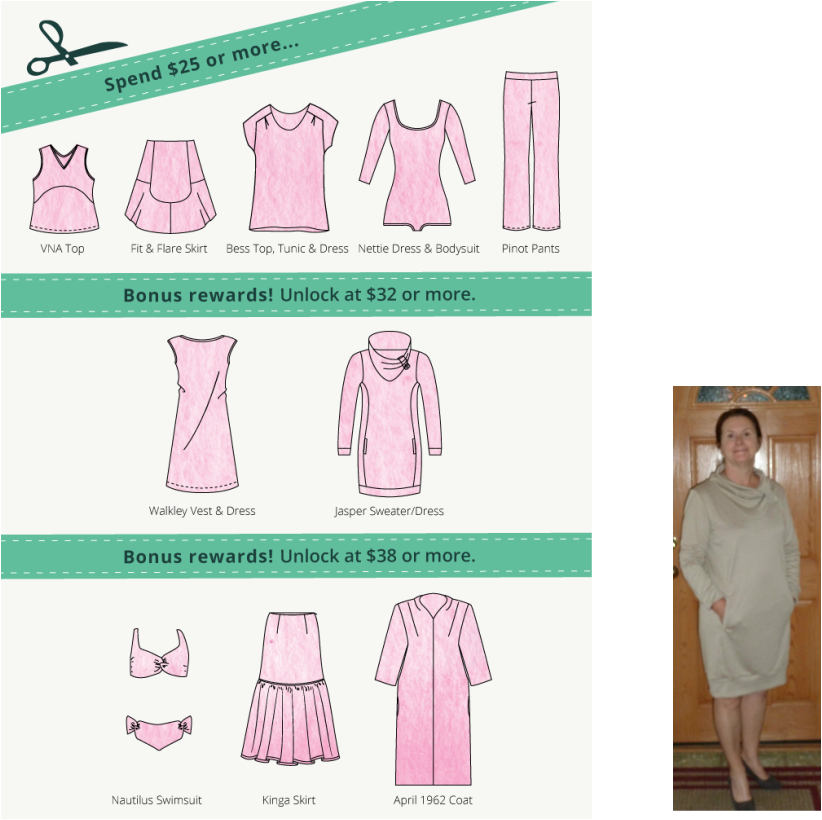 Thanks Lisa for talking to me.

Well I a French women living in US, I am hook by Paprika patterns. Well design thoughtful patterns, with instructions easy to follow . Very comfortable dress.
The bundle 2 is still available until Sept 12. It features patterns from 10 designers! It's pay what you wan but the more you pay the more you'll receive.
www.sewindependent.com
And
20% of bundle proceeds will be donated to
Women for Women
, an organization which helps women dealing with violence, marginalization, and poverty due to war and conflict.
Stay tuned for more interviews and some great tutorials from some of your favorite pattern designers and hopefully some new companies you haven't heard about before, during All September:
Sewing Indie Month.
Sylvie