Part of the Indie Pattern month, we interview each other, and this id the interview of
Lolita Patterns
:
1) How do you get inspired when you create a new pattern? What comes first, the pattern or the idea?
I love perusing fashion sites and seeing the latest collections. I also check out lots of Japanese lolita fashion sites and check out catalogs and stores for fashion forward professional wear. I am constantly finding parts of different garments that I can see looking amazing put together in one garment. I generally see a great piece of professional wear that can use a little spicing up and use elements from a lolita fashion piece to add some flair. The combinations have turned out wonderfully so far!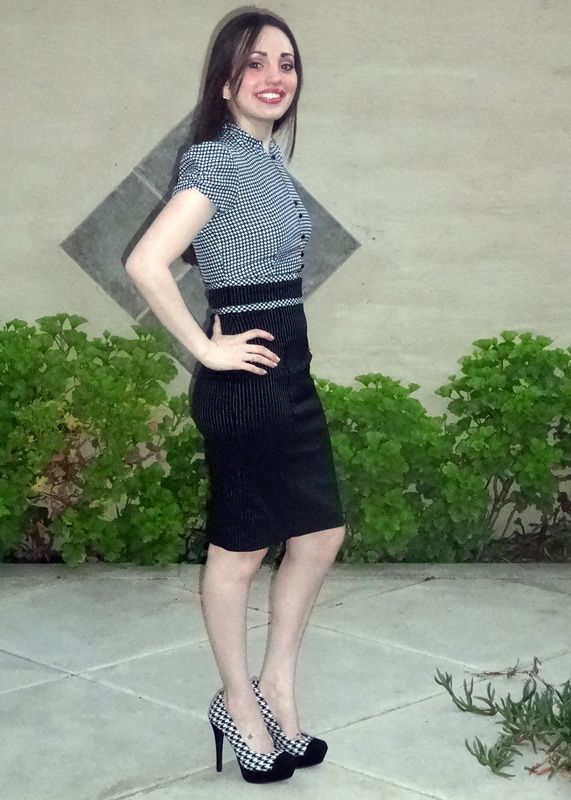 2) What is your preferred method of creation – draping or drafting? How do your ideas come alive?

All the patterns are drafted in a base size for the smaller sizes and a base size for the larger sizes. Next comes a lot of test sewing in these two base sizes! I usually sew each sample a different way to see which way ends up with the best finished product. Then I know exactly which methods I want to use when I write the instructions. Then fit sessions in both sizes and re-tweaking the fit and draft until it fits the base sizes perfectly! Then the pattern gets graded and sent to testers.

3) What influences your work, magazines, fashion show?

I get most of my ideas from fashion web sites, catalogs and fashion magazines. I love looking at catalogs for ideas...some of my favorite patterns have come from such a basic start with great added details.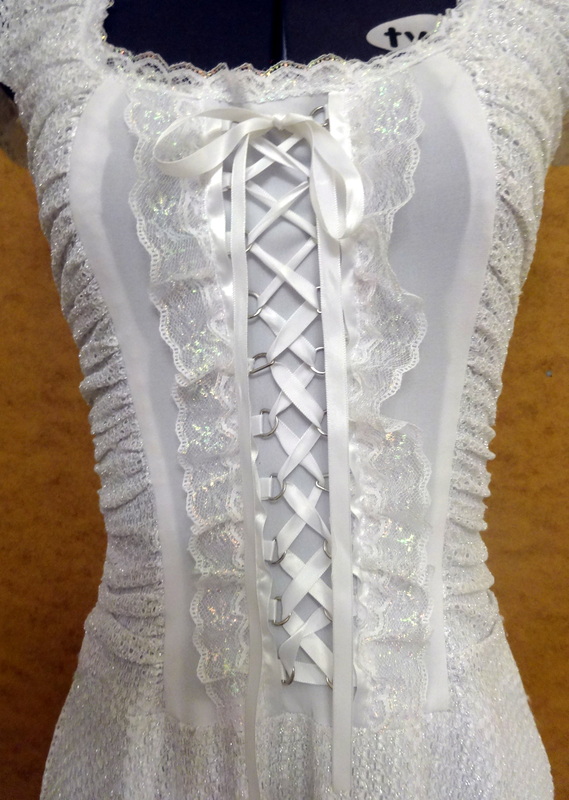 4) There are lots of steps involved in the pattern release process. What part of the development do you look forward to the most? And here is where I really put you on the spot-what is the least enjoyable part?

My favorite parts are definitely designing the original pattern concept and sewing my versions. I always have so many ideas for variations and fabric that I have in my stash and it seems like such a long time from the original concept until the time I get the pattern graded into my size so I can sew it up! The concept is the first part and sewing up my own version is usually the last part.

My least favorite part has got to be cutting and taping together all the tester and final PDF patterns. I don't feel comfortable sending them out to testers or for sale until I have confirmed that the PDF tapes together correctly and is in the correct order with no glaring errors. That means I get to put together the PDF's in both sets of sizes once for the testers and then once for the final version! 4 times per pattern!
5) What is your background? Is it more industry or couture

I have an undergraduate degree in Fashion Merchandising and Design and learned a great deal from that education. However, I did not use it right away! I was in the cosmetics industry for several years and then went to law school and became a criminal defense attorney. Also during this time I got my Masters in Business Administration. Throughout those years, I never forgot my love of sewing and sewed tons of items. When the right time presented itself for me to combine my love of sewing with my business knowledge, I jumped on it!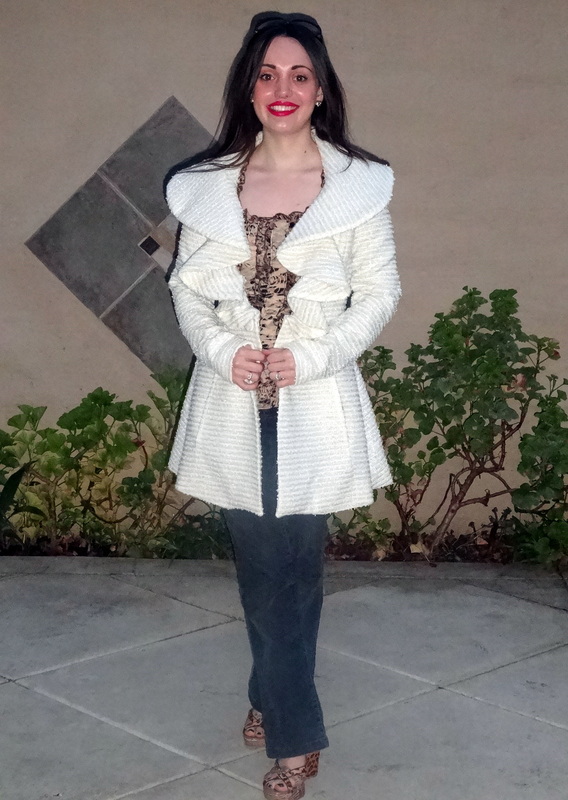 6) What challenges have you faced that were unexpected?

One of the main challenges I face is figuring out how to work at home and be as productive and immune to as many distractions. I really have to stay on my toes to keep the balance! I love staying at home with my dogs and working in my pajamas, I just have to be careful. Some days I can waste the whole day away being distracted by chores around the house, and other times I can spend 15 hours straight on the computer editing patterns/instructions when I get in the zone! I've been getting much better at balancing how to work at home…just took some practice.

7) Creation takes a lot out of a gal. At the end of the day, do you make anything for yourself?

Sometimes I feel guilty making something for myself when I know there are more samples or instructions or patterns I could be working on. But I have since figured out a system. When the pattern is at the grader, or out to testers, I have free time to sew anything I want! I have a big checklist for each pattern so I know exactly what needs to be done and when. I make sure that everything I can possibly do before grading is done prior to it being sent out, so that I literally cannot feel guilty about anything while it is gone since there is nothing else to do for that pattern! (yes I know I can work on another pattern…but this is my system and it is working! Plus I love sewing for myself and using all kinds of patterns…it's how I fell in love with sewing in the first place. I'm not going to give it up!) And I do the same thing for when the pattern goes to testers. I make sure everything possible is done so that when the pattern is with testers, I can sit back and sew up things for myself. The funny thing is, I so often dream up using my patterns with fabric from my stash and all these different versions I can make. This happened recently with Gunmetal…I keep making so many versions! But I definitely still have tons of other patterns and makes that I am just as excited about making.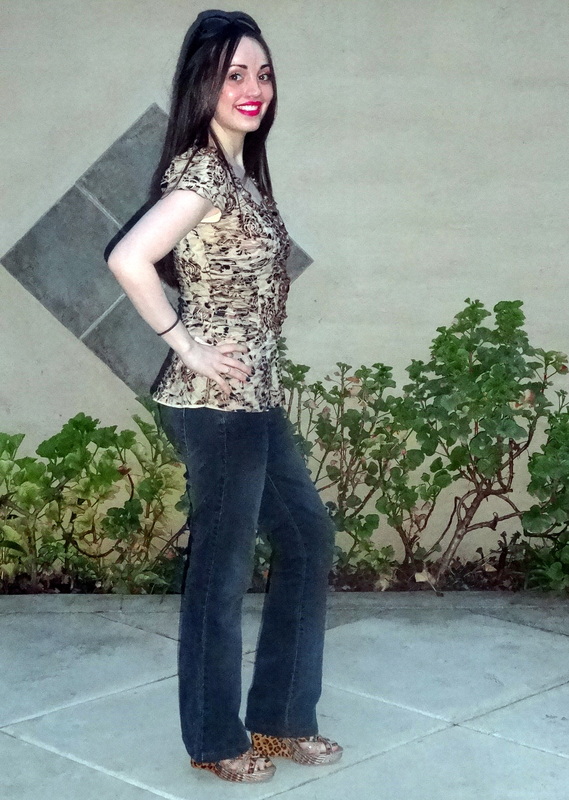 8) What is the story behind the name Lolita Patterns? And the Logo?

The name Lolita Patterns comes from the type of fashion that the patterns are inspired by, Japanese lolita style fashion. The logo has a fun skull to show the gothic type of lolita style and a bow to show the contrast of the girly sweet/romantic lolita side. There are also needles to represent sewing that lace through the letters. Our pattern packaging also corresponds with our logo by using the same bow as the closure to the envelope and sweet scallops as trim.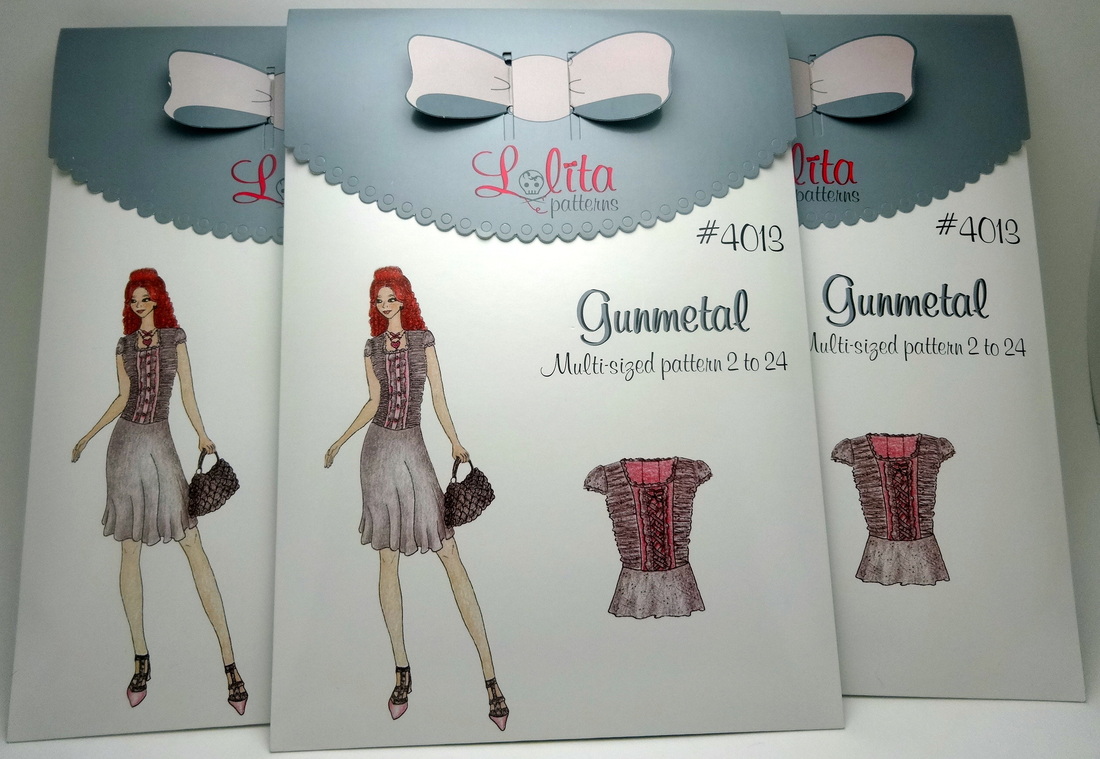 We also use a thicker weight of paper for the envelope and add a metal clasp behind the bow to ensure durability of the envelopes. I used to hate it when my envelopes would disintegrate after only a couple uses!

9) Do you have new patterns coming soon?

I do! In fact we have a new pattern being released on Monday! It is a great all-around basic with a beautiful twist…and all the tester versions have been so unbelievably gorgeous I can't wait for the release!